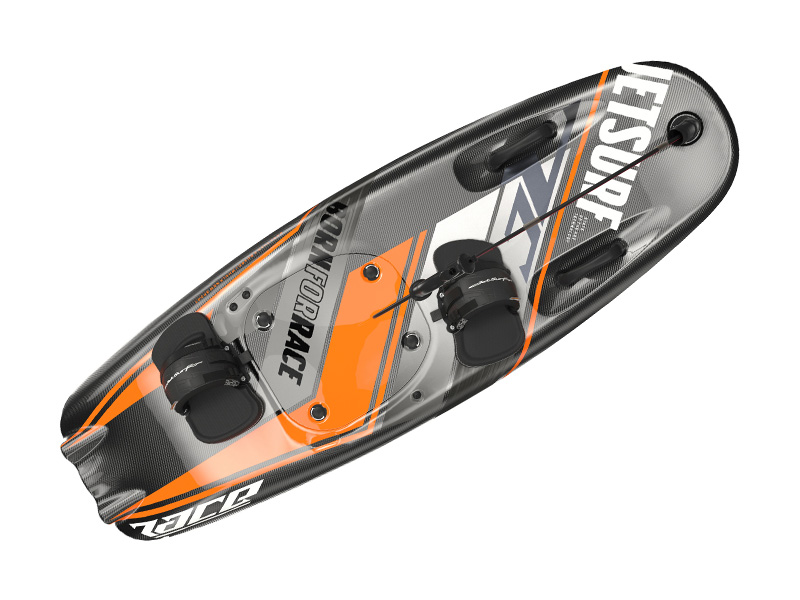 This model is suitable for advanced JetSurf riders
If you do not have racing ambitions but still want to experience the feeling of real racing boards then the Race model is the right choice. It will allow you to make really sharp turns reminiscent of riding a motorcycle and master even the steepest waves. JetSurf Race board will ensure a great Jetsurfing experience in any conditions you might get to.
The great performance and a new hull open up new possibilities of Jetsurfing. The Race model is a great choice for anyone who is looking for a compromise between a Universal Factory GP and a professional Titanium board
Technical specifications
Drive unit
Propulsion system
Jet-Pump direct drive
Racing pump with
Carbon fiber; Axial flow; High performance single stage
Racing impeller
Carbon fiber
Engine
Type
2 stroke engine MSR 50.2 HXT
Displacement
90 cc
Cooling
Water cooled open loop
Fuel type
Unleaded 95 octane or higher + full synthetic 2 stroke racing oil
fuel / oil mix ratio 1:50 standard)
Top speed
58 km/h   /   36 mph
Electrical
Ignition
Multiprocessor ICU
Starter
DC motor
Battery
Li-Ion 3.2 Ah,   The engine does not recharge the battery, there is no accumulator which will give you approximately 150 starts or 4 hours of continuous riding without recharging. Recharging takes approximately 45 min. and can be done via a car cigarette lighter output or power socket.
Dimensions
Length
1800 mm / 70.87 inches
Width
600 mm / 23.62 inches
Height
150 mm / 5.91 inches
Weight
18.5 kg / 40.8  pounds
Max load
100 kg / 220 pounds
Fuel capacity
2.8 l / 0.74 gallons
Pads
2 (standard) - 2 straps
 Technical upgrades.
lighter, more efficient, more reliable on salt water
Provides higher torque, 90 % effectiveness, overload protection. Can detect water in the engine and does not start, which increases the starter lifetime.
Increased batteries capacity, pack with integrated intelligent electronics. Under/over voltage protection. Shortcut protection, basic data logger, simplified fixing.
Increases holders lifetime even in high performance conditions.
New fixing, simplified for engine removing before traveling.
Simplified fuel tank removing. Allows rider to tank out of the beach without moving the board.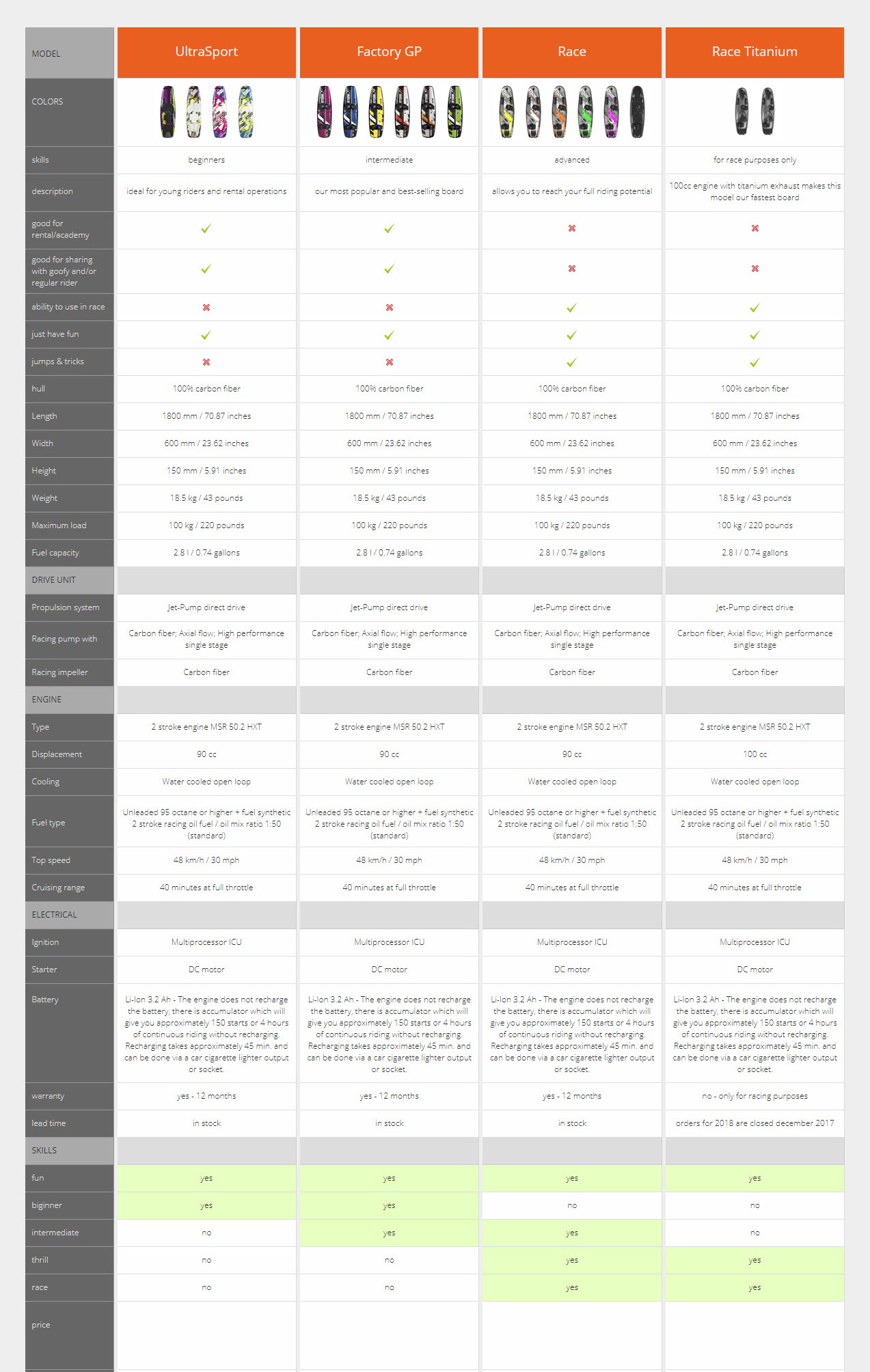 | | |
| --- | --- |
| Dimension (L x W x H) | 0 x 0 x 0 |
| Weight | 0 |